Sharing with you, the Boos Performance track experience!




Select a track up above for event information!


Boos Performance would like to share with you our fun and experiences as we travel the country entering various events from local autocross to One Lap of America to the SCCA SPEED GT series!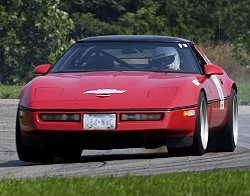 People love sports cars because most of them are comfortable to drive every day on the street, but you can also put on a helmet and head out on a track. We at Boos Performance also like to not only think about it, but live that too!

Getting started in the local autocross events with a modified 1986 Corvette, we began to gather the experience to move into faster, more experienced events. The Corvette called "old red" put in plenty of track time over the past 6 years, and saw track time not only in Minnesota, but at most of the mid-west tracks gaining experiece not only as a driver, but what parts actually work well on a track providing performance and durability.



Old Red saw it's first national press by entering the 2002 Cannonball Run now known as the "One Lap of America". Sponsored by Car and Driver magazine, Old Red came out of nowhere as this was the first Cannonball for John Boos, and Old Red.

That first Cannonball Boos Performance took home 1st place in class, and 3rd place overall competing against cars like Porsche, Ferrari, Lamborgini, and some high performance Vipers.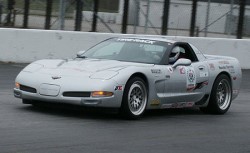 We learned a lot from that first Cannonball, and the first thing that was needed to be able to go for that top spot was more horsepower. Boos Performance partnered with a couple other local vendors to build their 2003 entry with co-driver Ron Marks.

This new car nicknamed "Gizmo" by Ron was off to a blazing start in the 2003 Cannonball run. The event hit a string of wet weather throughout the event, and the Boos Performance entry was swapping top spots landing on top of the leader board heading into the last event in New York State.

In the pouring rain, Gizmo was the first car sent out on a soaking wet track that broke the tires loose hitting a tire barrier, and bending up a couple of the steering components. No other cars were sent after Gizmo until the track dried up a little more.

Gizmo stil managed to get a 2nd place finish overall even with a damaged front end!



In 2006 the Boos Performance goal was to enter and finish at least 1 SPEED GT race. This is one racing series in which Old Red couldn't even enter much less compete!

Boos Performance set out to hand build a car that was not only fast, but reliable so it could compete and actually finish a race! Well that happened, and if you'd like to see the outcome, click on Laguna Seca at the top of this page!