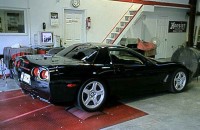 Everyone has heard the term Dyno Tune, and at a car event you've probably seen a car strapped on to a dyno with a bunch of wires hanging off it to a computer.

Someone is probably sitting in the car and mashes the gas to the floor and you get a horsepower and torque reading. The tuner will adjust and test, adjust and test, adjust and test until they get the spark advance and air fuel ratio they want at wide open throttle.

But who only drives at wide open throttle all the time? Most of the time that's the only part of your car that is adjusted with a dyno tune, wide open throttle!

When you read the "Why Do I Want A Tune" below, keep in mind that your car computer learns, adjusts, and will blanket apply adjustments to the WOT program of the car. If you just dyno tune the WOT program and not the entire RPM range, your car may adjust away any benefits you gain from a dyno only tune!